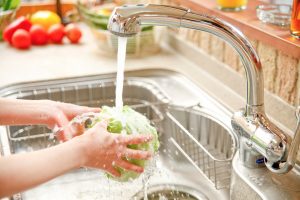 If you've got a garbage disposal in your kitchen sink, you probably cannot picture cooking and cleaning up without it. Unfinished meals, kitchen scraps, and spoiling leftovers alike get scraped into the garbage disposal where you'll no longer have to worry about them stinking up your trash can. However, this dependence on our garbage disposals often gets us into some trouble.
Do you get frustrated by a garbage disposal that jams up way too frequently? Have you had to call in a plumber one too many times to pull something out of the mechanism? Or are you simply checking up on what items do or do not belong in the garbage disposal? We've got some answers for you here. Call a friendly plumber for more information!
Throw away anything that's not food!
As plumbers, we have learned that not everybody realizes that a garbage disposal is never, ever to be used for your trash. Part of that is because many people do not know quite how the garbage disposal works.
You might picture your garbage disposal a lot like a blender. Many people assume that sharp blades rotate around to chop up food before sending it down the drain. This isn't actually the case.
Rather, your garbage disposal uses a motor that powers an impeller. At the end of the impeller, the "blades" are not really sharp. However, there is a grind ring that actually grinds down food as centrifugal force breaks it apart.
That's why plastic, paper, and other wrappers and garbage items won't work in the garbage disposal. Some may slip through the cracks and move into the drains, but they would still pose a risk to your sewer pipes.
Toss out hard food items and scraps
Hard food items include things like meat bones and fruit pits. Since your garbage disposal grinds down foods before sending them down the drains, it won't be very effective on these types of materials. Think of it this way: if you wouldn't be able to chew it with your teeth, it doesn't belong in the garbage disposal!
Think about the food texture
You should consider how the texture of the food may interact with the garbage disposal, and where or not it could create problems for the mechanism.
Stringy, fibrous foods are one common problem for garbage disposals. Think about things like asparagus and celery. These could, potentially, wrap around the motor and cause it to jam up. Also, if it feels like paper, it will act like paper in the disposal. Onion skins and corn husks should be thrown away instead.
Consider items that are bad for drains
Some items can make it through the garbage disposal without problem, but are still bad for your drains. This includes some items that you wouldn't expect.
Pasta and rice are expandable foods, expanding in water and creating backup in the drains. You should avoid putting these items in the kitchen sink drains.
Fats, oils, and grease create a sticky residue that lines the pipes and leads to a higher likelihood of clogs.
Coffee grounds may make it through the disposal, but they can clump together and easily clog up a drain.
For garbage disposal services in Boynton Beach, call Butler Plumbing.
Just Tell Your Friends the Butler Did It!