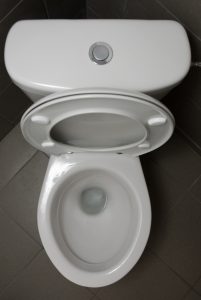 The sound of a running toilet is enough to drive some of us up the wall. Of course, you could close the door to the bathroom. For many, however, this is impractical. Besides, a running toilet wastes a lot of water. In fact, according to the EPA's WaterSense program, leaky toilets can waste up to 200 gallons of water a day! Yes, a running toilet is leaking, and it's something that needs repair. This may be something you can do on your own, but you might need the help of a professional plumbers.
A pro can help you diagnose toilet troubles, replace a flapper valve, or even replace the entire toilet if necessary. The most important thing is that you stop the leak, so we'll help you learn what the problem might be in today's guide. Call our team for more helpful plumbing tips!
Find the Leak Early
First, it's always best to find a leak in your toilet as soon as possible. You might notice that your toilet is running, making a noise whether or not it's been flushed. It may begin running for no apparent reason, or it might run for a lot longer than expected right after you flush. However, you might not hear a noise at all.
In fact, another toilet in your home could be running right now without you ever knowing it. There is a way to detect leaks, so that you can find them before the toilet is running nonstop and wasting hundreds of gallons a year.
Simply add a drop of food coloring to the toilet tank. Don't flush, wait about 15 minutes, and then check the bowl. If the water in the bowl has changed color, you have a leak.
Jiggle the Handle or Open the Tank
There is a possible quick solution to your toilet running issues. You may already know this one but just to be sure…have you tried jiggling the handle? You may also be able to open up the tank, the back of the toilet, and find a solution. This might mean pulling up on the chain to seal the flapper into place or reattaching it to a hook that's come undone. If this is something you have to do all the time, though, you have a problem.
Replace the Flapper
Typically, when a toilet continuously runs, you have to replace the "flapper." There is a valve that seals over the hole that joins the tank to the bowl. When the flapper runs down, water is able to continuously run into the bowl and drain, flushing away up to hundreds of gallons a day.
You can find a new flapper valve or a new flush valve at your local hardware store. However, if you don't feel comfortable doing this on your own, you can always call in a plumber.
Do You Need a New Toilet?
Replacing the flapper might simply not be enough to really get your bathroom plumbing under control. An older toilet, one installed before the 90s, uses more water than it should anyway because it was put in before new standards of manufacturing led to regulations requiring low-flush toilets—which use about 1/3 of the water by volume per flush—for all new installations. An older toilet that's running constantly might need replacement rather than repair, but a trained plumber should help you figure that out for sure.
For bathroom plumbing in Deerfield Beach and elsewhere, contact Butler Plumbing.
"Just Tell Your Friends the Butler Did It!"