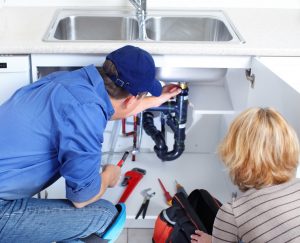 We've been in this industry for a long time, so we've seen what can happen when you have the wrong team for the job. Plumbing is a tough job, and even something seemingly simple, like unclogging a drain, can require a plumber's expertise. Still, you may be tempted to hire a regular "handyman," a friend of a friend or a neighbor with some experience, perhaps.
Our experts are here to tell you how important it is to hire a licensed and insured contractor when you need plumbing work in your home. It might seem like you're saving some money upfront, but in the end, hiring the wrong team for the work can cost you far more.
So what does it mean to be licensed?
A Florida Plumbing Contractor License is actually required for most plumbing jobs within the state. This is true of many states, but may depend on the scope of the work. In other words, only licensed plumbers should advertise work within the trade, though it's easy to believe that a handyman is just as qualified. However, the licensing process requires experience, ongoing training, and examination, so you know a licensed contractor is truly cut out for the job.
What about the insurance?
Licensed plumbers should also be insured to work in homes in your area. Typically, licensure requires a minimum general liability insurance for contractors working on plumbing. This helps to protect you, the customer, in case any damage occurs on your property. You may feel free to ask a plumbing company for proof of insurance before work begins if you are not sure.
What kind of training do professional plumbers go through?
The fact of the matter is that professional plumbers go through years of training in order to do the work properly. Under the watchful eye of an experienced team, they learn the ropes and how to diagnose and repair the plumbing problems specific to your area, whether your neighborhood is prone to flooding or hard water.
What can go wrong with a handyman's work?
If you choose a handyman to do a plumber's work, you may be in for a surprise. We know that, initially, it may seem as if the price is right. However, there's a reason it costs money to enlist the help of a professional plumber. Besides the cost of materials and equipment, you avoid the mistakes a handyman could, potentially, make.
Choosing the wrong tool to clear a drain or fix a leak and causing even more damage to the pipes.
Lacking the right inspection equipment, so finding a leak or clog makes a huge mess on your property.
Making a plumbing installation look shoddy.
Failing to follow local codes.
Doing a poor job that requires you to pay even more for a plumber to repair it.
It's simply not worth the risk. Find a licensed and insured contractor in your area to do the work properly. You'll be glad you did!
Butler Plumbing has licensed and insured plumbers available in Delray Beach, FL. Just tell your friends the Butler did it!