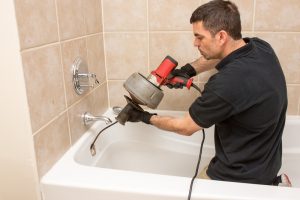 When your drains clog up, you cannot use your sink, shower, and appliances the way you want, and this can be extremely frustrating. You'd much rather brush your teeth without the sink filling up after a few seconds of running the water, or to rinse the dishes without worrying about water sloshing around the drain and splashing into the kitchen while you work.
Many people look for an easy fix when it comes to methods of cleaning the drain, but what seems like a simple solution might make the problem worse. Today, we discuss why you should avoid those drain cleaning chemicals found on store shelves and what you should do instead.
The Problem with Drain Cleaning Chemicals
Drain cleaning chemicals are some of the most toxic substances available on store shelves. Aside from the risk of injury and eye or skin damage, there's the fact that—well—they don't always work. Many drain cleaning chemicals are formulated to dissolve certain organic materials in a home's drains, but not others. For example, it might be able to break down hair but not greasy food particles.
All in all, drain cleaning chemicals might just push the clog further along the drain, so it becomes a bigger problem later on. Besides, the chemicals can slowly damage the lining of the pipes too.
The Plunger
The plunger should be your first choice when you have a drain clog that is NOT affecting the drains throughout your home. In this case, you'll likely need to call in a plumber. Every home should have a good plunger, though, and preferably one with a flange attachment at the bottom that can flip in to use on sink drains and fold out for better pressure and a tighter seal with toilets.
Make sure you're applying equal force pushing down and pulling up on the plunger. The goal is to create enough pressure to force the clog to dislodge. You may want to repeat this up to 20 times or so before moving on to another tool.
Drain Snakes and Augers
Next, a plumber will typically recommend trying a drain auger, also known as a drain snake. A small hand crank auger might be able to reach clogs near the drain opening. However, you should check to see whether a clog is actually affecting multiple drains in your home. In that case, the blockage is likely farther in the drain line, and you'll need professional motorized drain snakes to get it out.
Hydro Jetting
A plumber should be able to perform a thorough inspection of your drainpipes and sewer lines, if necessary, and they may determine that hydro jetting is the best way to truly clear up the drain lines. This process involves using a high-pressure hose to blast blockage into the sewer system, and also to clean the lining of the pipes.
Not only will the clog dislodge, but if this is done properly, you'll also be less likely to see any more drain clogs in the near future. Getting the residue out of the pipes helps debris and wastewater to move down the pipes more smoothly in the first place.
For more information or to schedule drain and sewer services in Coral Springs, FL, call the friendly folks at Butler Plumbing. "Just Tell Your Friends the Butler Did It!"